We are officially representing Matsubayashi Ryu International Karate in the Netherlands.
Established in Maynooth (Ireland) in 2012, originally as a Shotokan karate dojo, which naturally progressed towards Matsubayashi Ryu (Shorin ryu), an Okinawan karate style.  We moved to Eindhoven (Netherlands) in 2017.  Realizing the huge demand by expats for English-speaking karate lessons, we fulfilled their need. We are the only Okinawan karate style in Noord-Brabant, who offers classes in English.
Matsubayashi ryu karatedo was established by Nagamine Shoshin sensei in continuation of Shorin ryu tradition of the Okinawan karate.  We follow this tradition and welcome all interested in personal development, mental and physical health, longevity and vitality, self-confidence and self-defense  to join FURIN KARATE DOJO.
We have truly become an international karate dojo. More than that we position ourselves as Centre for studies of Okinawan Martial Arts, History and Culture. We love karate and are proudly representing values of Matsubayashi Ryu International in Europe.  We strongly believe in the values of Okinawan karate. Our mission is the popularization of Okinawan karate and culture and to build a strong family-like community.
Matsubayashi Ryu International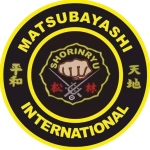 We are an Okinawan Matsubayashi Ryu dojo directly linked to Matsubayashi Shorin Ryu International (Patrick Beaumont Sensei, Ireland).
Read more about the history of Matsubayashi Ryu here.
Nederlandse Federatie Krijgskunsten

As of September 2023, we are a member of the Dutch Martial Arts Federation (NFK).  
Read more here.
There are eighteen Shuri-te and Tomari-te kata in Matsubayashi ryu karate; sixteen were inherited from Choki Motobu, Chotoku Kyan, and Ankichi Arakaki, and two (Fukyugata I and II) were later added. Here is the list of kata:
Quoted from source: The Essence of Okinawan Karate-Do by Shoshin Nagamine 
Behind every school of karate, there is a teacher, a leader, who poured his heart and soul into passing on his knowledge on to his students.